95 gallon aluminum L-shaped refueling transfer tank with two separate tanks designed for transporting two different fuels such as diesel and gasoline - 2 separate tanks welded together for transporting separate liquids. This model also includes a toolbox.
46 gallons per side
*DOT Certified for Gas , Diesel, Methanol, Kerosene, Aviation fuel and other liquids.
All aluminum tank construction
Two reinforced 2 NPT bungs per tank that allow for reversing the pump and fill
Commercial prevent lockable filler cap
Full baffles to reduce movement of contents
Designed and tested for diesel and gasoline
46 Gallon capacity in each tank
DOT Certified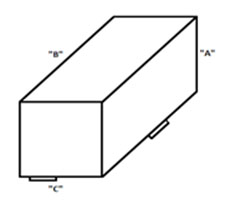 A: 26"
B: 48 1/2"
C: 33"
Toolbox is 48" x 22" x 17"