JME 110 gallon split transfer tank come with two (2) GPI EZ8 12 volt 8 GPM fuel transfer pumps. The 110 gallon split tank (55 gallons each side) allows you the convenience of being able to carry 2 different types of fuel at the same time.
Tank Specs
DOT certified for gas and diesel
All aluminum construction
Four 2 in. bungs allows reversing of pump and fill
Fully baffled to reduce fluid movement
Prevent style lockable fill caps
Pump Specs
12 volt explosion proof DC motor
Telescoping suction tube 15 in. to 40 in.
15 ft. 14/2 AWG power cord
10 ft. x 5/8 in. dispensing hose
Manual dispensing nozzle
2 year warranty
Tank Dimensions
Important Notes:
Mounting tabs extend out 1 1/2 in.
Add 2 1/2 in. for fill cap height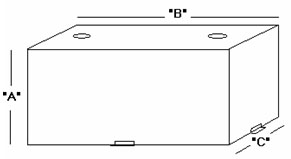 A: 24"
B: 48½"
C: 24"