Designed for severe conditions, these refueling tanks can easily handle larger pumps and off-road conditions. Your vehicle takes a beating in off-road environments and so does the equipment you're transporting. That's why we have developed the Severe Series tanks. The tanks are constructed using 50% thicker HD aluminum and have a unique internal pump bung support.
*Please make sure to measure your truck bed to verify the tank will fit based on the tank dimensions in the dimensions tab above. Also, please add an additional 1 ½" on the length dimension and width dimension to accommodate the size of the tank mounting tabs.
Dimensions
Important Notes:
Mounting tabs extend out 1 1/2 in.
Add 2 1/2 in. for fill cap height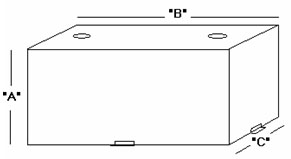 A: 24"
B: 48½"
C: 24"
Features
Lockable SpinSecure vent/prevent cap, highest grade cap in the industry (the prevent cap lets the tank take in air while pumping)
Fully welded baffles for additional strength and reducing content movement (internal baffles create smaller compartments inside the tank)
Unique internal pump bung support–both bungs are equipped with supports so pumps may be mounted on either bung
50% thicker, heavier, .190" HD aluminum construction
Vent with rollover protection for safety and functionality
Two 2" bungs with support for mounting pumps on either side
5-year warranty (call for complete details)
Special permit for use in commerce
Designed for gasoline, diesel, kerosene, AV fuel, and methanol
DOT permit allows transportation while the pump is still attached to the tank